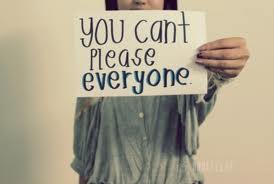 I have always been the type of person that tries to keep everyone happy all the time. It is a very tiresome life when one tries to do that. Im not sure why I ever started trying or what ever made me think I even could, but it has been a huge part of my life for as long as I can remember.
I have moved away from it some as I have grown older, but it is still there, and I even try to do it with this website. When it comes to Ruralinfo.net, I am much more comfortable on the back end with the technical stuff than I am with having to deal with moderating people and what they post and share on my site.
When I receive a complaint about something, I always try to make a decision to accommodate everyone. And in the end, someone always ends up upset about my decision.
The complaints have grown as this website has grown. On the internet, someone always has an opinion on how I could do something better. While I appreciate the input, and I really do take all input under consideration, I am learning that I will never make everyone happy. There will always be someone that will end up upset about something.
With all of this being said, there are lines I draw as to what I will and won't allow on my site. So to clear some things up and answer a few questions, here are a few clarifications:
1. I will not allow anyone to post attacking me or this website directly. While I understand you might not like something about it, it just doesn't sit right with me to allow you to visit my website while publicly degrading me or the site.  If you have some problems with anything, you can always send me an email and I will always take your ideas under consideration IF they are respectful. Sending me emails full of demands and curse words will get you nowhere with me.
2. I still continue to get complaints about the ads that are shown on this website, attacking me for supporting one side or the other in political campaigns, etc. I addressed this a while ago, but click here to read that article again..
3. I will NOT allow you to personally attack another person on the site. IF you have problems with someone, either take it private, or let it go.
4. I moderate all of my message boards and websites. While I might not catch everything, I try to keep a close watch on things. IF you see something that you believe to be offensive or something that you believe should not be on the site, you can email me and I will take a look at it.
5. I am not comfortable with banning people. I really want this website to be a place for ALL rural carriers. But, I have done it if someone steps over the line. I do not like to do it, but sometimes lines are crossed and it has to happen.
6. Everything that happens on this site and all of the sidelines reflects on ME and the Ruralinfo.net name. The NRLCA has always thought that the online rural carrier community was just a bunch of disgruntled rural carriers of no consequence. They have publicly stated that the only thing rural carriers on the internet do is gripe and complain and spread rumors. I have struggled hard to make this website better than that. I want to show them that online rural carriers do matter and they should pay attention to us. Please remember when you are posting on this website, you are representing Ruralinfo.net and online rural carriers everywhere. That is not to say you cannot speak your mind, because I hope by now everyone knows I strongly encourage that. Dissent and debate are the backbones of change. I highly encourage it, in a respectful way.
7. You may not like some of the moderating decisions I make, but it is my job to make them and I own every decision I make. Whether they are the right decisions or not, I guess we will see, but they are my decisions. When I make moderating decisions, I always make them with the thought of how it reflects on this website. The reputation of this website is ALWAYS foremost in my mind. I have worked for years to shape this community into something different and something worth paying attention to.
So, with all of that out of the way, I also need to thank many of you for helping me on this journey. I know everyone will not agree with the way I handle this website, and I don't expect you all to agree. I just hope we all can agree that online rural carriers being united in one place is a GOOD THING. Im not sure what the legacy of this website will be after I am gone, but I can only hope it will hold a place in your minds as a good and worthwhile project that in some small way helped to shape the future of online rural carriers. If that happens, to me, it will be a success!