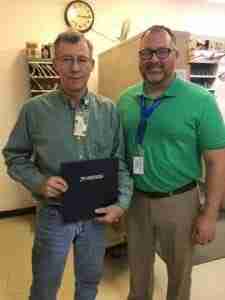 Brinson bid adieu to Dennis Foulk, its rural mail carrier of 37 years, last Thursday.
Foulk first started working for the U.S.P.S. as a substitute carrier in November of 1980, under Post Master Louise Scott.  He was promoted to regular carrier in August of 1984. Foulk spent his entire postal career delivering the mail for the Brinson route.
Foulk said the volume of mail he carried has doubled from when he first began. He attributed the increase to the fact that his patrons doubled.
He had 238 when he began in 1980. That number is now 530. Brinson was an independent office when he began, but it has changed over the years and they are now under the Donalsonville Post Office.
Foulk recalled a few memorable moments when he performed extra duty during his years of delivering the mail. "I was once bombed by a flock of vultures, which I apparently disturbed while they were eating their meal. They emptied themselves all over my windshield and I had to go back to the post office and wash off my window." Then, one time he stopped to help a farmer round up some cattle that had gotten loose, and he usually knew where all the dogs and cats belonged, even taking some of them home when necessary.
He has no specific plans for his retirement, just to catch up with things at home. He plans to set up a studio for his wife Sharon so she can do her art work.
"It has been a privilege to serve my patrons through the years", Foulk noted.  "I will miss them and wish them the very best."
Source: Brinson mail carrier retires after nearly four decades | The Post-Searchlight