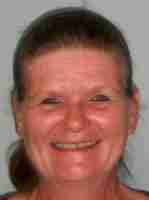 GUN PLAIN TOWNSHIP, Mich. — Authorities have identified a postal worker who died Monday after her vehicle was hit while delivering mail Monday.
Sheila Gay Rackley, 55, was delivering mail to a home when her Postal Service vehicle was hit by a truck going south on 10th Street. The crash sent her vehicle into the ditch and caused it to catch fire. Read more
Obituary
Sheila passed away unexpectedly Monday, January 6, 2020 in Plainwell.
She was born September 10, 1964 in Allegan the daughter of Howard and Pricilla (Oisten) Pegg. Sheila was a 1982 Allegan High School graduate. For 11 years she had been a rural mail carrier for the Plainwell Post Office. Sheila loved animals especially her dogs. Most of all she loved spending time with and taking care of her family. Read more
From one of her customers:

Send condolences to the family:
Family of Sheila Rackley
c/o Plainwell Post Office
457 East Bridge street
Plainwell MI 49080