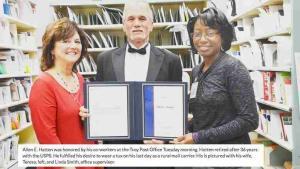 Allen E. Hatten is not in the habit of going around wearing a tuxedo all willy nilly.
And, perhaps not many rural mail carriers don a tuxedo for their retirement party from the USPS. But, for Hatten it was the appropriate attire.
He had planned to wear a tux on his last mail route and, if his mail car had not "clunked out" on him, that's exactly what he would have done.
"I was going to work another year but, I had to furnish my own vehicle and gas and keep the car up, so when I started to have car troubles, I decided not to buy another car, just go ahead and retire."
On Tuesday, Allen's retirement was honored by his co-workers at the Troy Post Offfice. He stood proud and tall at that junction of his life in a traditional tuxedo with his wife, Teresa, at his side.
"He cleans up good," Teresa Hatten said with a teasing smile.
If there were any reservations about retirement, Hatten hid them behind a schoolboy smile.
"I'm looking forward to doing things on the spur of the moment," he said. "If Teresa and I want to get up one morning and ride to the mountains or go to the beach for seafood, we can do that. If I want to spend the day spoiling the grandchildren, I can do that. This next part of my life will be another adventure."
Working for the USPS has been a 36-year adventure for Hatten, with 22 of those years fulltime. Over those years, Hatten owned 22 cars, replaced eight transmissions and three motors, had 22 full brake jobs and fixed 367 flats.