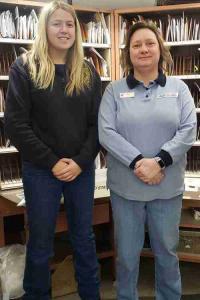 Two postal employees in the Garden State provided assistance on the scene of a two-vehicle accident last December involving a USPS highway contract route driver.
Rosenhayn, NJ, Retail Associate Hope Crumb was on her way home from work when she witnessed the accident. She stopped, called 911 and rendered aid to the contractor, who escaped from his truck before it was engulfed in flames.
Crumb accompanied the man to a hospital and stayed with him until his wife arrived.
Elmer, NJ, Rural Carrier Associate Tabitha Davis responded to the accident in her role as a volunteer firefighter.
Davis helped battle the blaze and also "took great pride in securing the mail," said Elmer Postmaster Janine Falisi.
The contractor recovered from his injuries.
The driver of the other vehicle died on the scene.