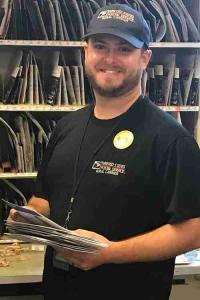 Rural Carrier Kevin Wescott was making deliveries one day last summer in Freeport, ME, when a 94-year-old woman riding an adult tricycle approached him.
She seemed distraught and confused, so Wescott assured her he would help her.
He immediately called 911 and comforted her until emergency responders arrived.
Authorities determined that the woman resided at an assisted living facility in neighboring Brunswick.
She had gotten disoriented while out grocery shopping, winding up over 9 miles away when Wescott encountered her.
She was taken home and family members later retrieved her tricycle.
"Had Kevin not shown an interest in her well-being, it could have easily been a tragic outcome, especially in such a rural area," said Freeport Postmaster Darin Baker. "Keeping her calm at a time when she was distressed, lost and confused made the difference that day."