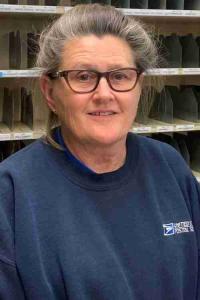 Rural Carrier Fran Geisler was delivering to the home of a customer in Hooper, NE, when she noticed the mail from the previous day hadn't been picked up.
Geisler, who knew the customer had mobility issues, knocked on the door and called out.
"I need help," came the reply. The elderly woman had fallen the previous day and couldn't get up by herself.
The postal employee entered the home, helped the woman to a chair and got her a glass of water.
Geisler was going to call emergency personnel, but the customer flatly refused. So she contacted the woman's son and grandson, who took the woman to receive medical care.
The woman was later moved to a care facility.