Authorities have charged a Midlothian woman with reckless driving in a crash Thursday that killed the driver of a mail carrier truck in Henrico County.
The Virginia State Police were summoned about 6:15 p.m. Thursday to the scene of a two-vehicle crash along northbound Interstate 295 just south of Woodman Road.
Bland was not wearing a seat belt and was partially ejected from the vehicle. He died at the scene. Colognori was wearing her seat belt and was taken to a hospital for treatment of minor injuries.
The crash is under investigation.
Update:  Lauren E. Colognori was found not guilty of reckless driving in September 2020.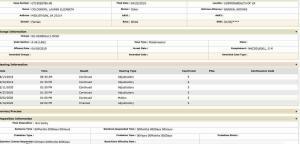 Disclaimer
Ruralinfo.net is not sponsored or authorized by the NRLCA, the USPS or any state or local association. The materials on Ruralinfo.net's web site are provided "as is". They are presented here for informational use only. See full disclaimer