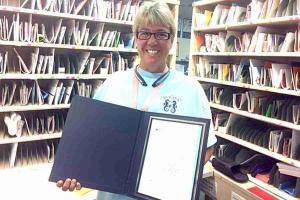 When Rural Carrier Margaret Denney recently delivered a package to an older customer's home in Hayden, AL, the woman's daughter answered the door.
As they greeted each other, Denney heard someone calling out for help, and they soon discovered that the customer had fallen in a side yard.
The daughter couldn't lift the woman on her own, so Denney pitched in and helped the customer get up and into the house.
She later mailed Denney a card to express her gratitude.
"Thank you for helping me off the ground," the woman wrote. "I wish for you all God's blessings. I'm OK, just lots of sore muscles."