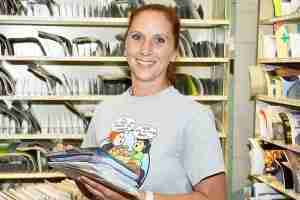 Elizabeth Terrebonne
A Postal Service employee in Papillion, NE, recently came to the aid of an 85-year-old customer who'd fallen out of his wheelchair.
Rural Carrier Elizabeth Terrebonne was delivering mail in the man's neighborhood when she saw that he'd taken a spill in his driveway.
She rushed over to assist him but could not pick him up on her own.
The customer asked Terrebonne to phone his son, but she got no answer, so she enlisted the help of two neighbors to lift the man into his wheelchair.
He later mailed a letter of thanks to the local Post Office.
"Beth was terrific, she was not about to leave me until help arrived," the man wrote. "You can be proud to have Beth as an employee, and I am lucky to have her deliver my mail!"
Terrebonne called the man "one of the sweetest customers on my route. I was very scared for him."
Local Customer Services Manager Victoria Krayneski described Terrebonne as "a tremendous mail carrier and person" who is "very good at her job."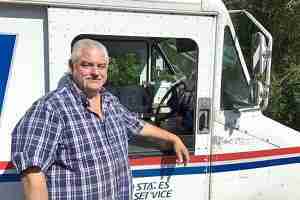 Steven Curtis
Rural Carrier Steven Curtis was delivering mail recently in Jamesville, NY, when he spotted a customer in trouble.
The man was pushing a lawn mower that had tipped on its side as he struggled to keep it — and himself — from plunging into a deep ditch alongside the road.
Curtis rushed to assist the customer, helping him stabilize and turn off the lawn mower, then dragging it onto flat land.
When Curtis told the man he should get someone to mow near the ditch for him, he replied, "Well, I've got to keep busy. I'm 90 years old!"
The man thanked Curtis repeatedly, according to local Postmaster Joy Hotaling.
"The following day, the customer greeted him with three words: 'There's my lifesaver,'" she said.