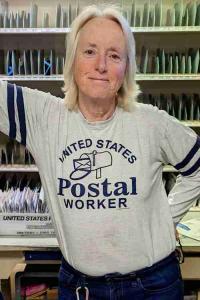 Rural Carrier Associate Johanna Dehl was delivering on her route in Adell, WI, when she noticed smoke streaming from a customer's garage.
The postal employee parked her vehicle, ran to the house and opened the front door. She screamed "Fire!" and called 911.
The customers weren't home, but she could hear two terrified dogs. They wouldn't come when called so she left the door open and went to move her vehicle. As she did, the dogs ran to safety.
The garage and part of the house burned to the ground in the blaze.
The customers were grateful for Dehl's quick response, which saved their pets' lives and helped ensure that some of their home still stands.