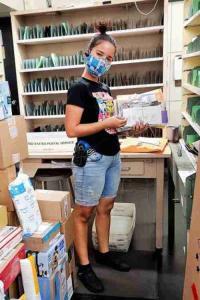 Rural Carrier Jennifer Nieves was recently making deliveries in an Ocala, FL, neighborhood when she saw a customer fall to the ground as he was walking toward his mailbox.
Nieves rushed to check on the man, who has cancer and a history of diabetes and strokes.
Finding him unable to stand up, the Postal Service employee immediately called 911 and tried to keep him alert until paramedics arrived.
"If not for Jennifer's awareness and immediate actions, the customer may have succumbed to death," said Kristopher Powell, Ocala's acting customer services manager.