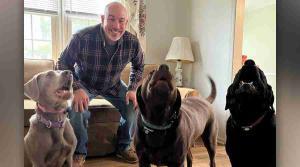 Rural Carrier Eugene Petrucci was delivering on his route in Furlong, PA, when he noticed flames coming from a customer's garage.
While it was clear there was no one home, the postal employee was familiar with the family and knew they had three dogs.
He parked his vehicle and ran to the front door, opening it to allow the dogs to escape, but one of them ran back into the house, which was now on fire.
Neighbors called 911 and firefighters responded.
The fire was contained. The third dog was rescued and given oxygen at the scene.